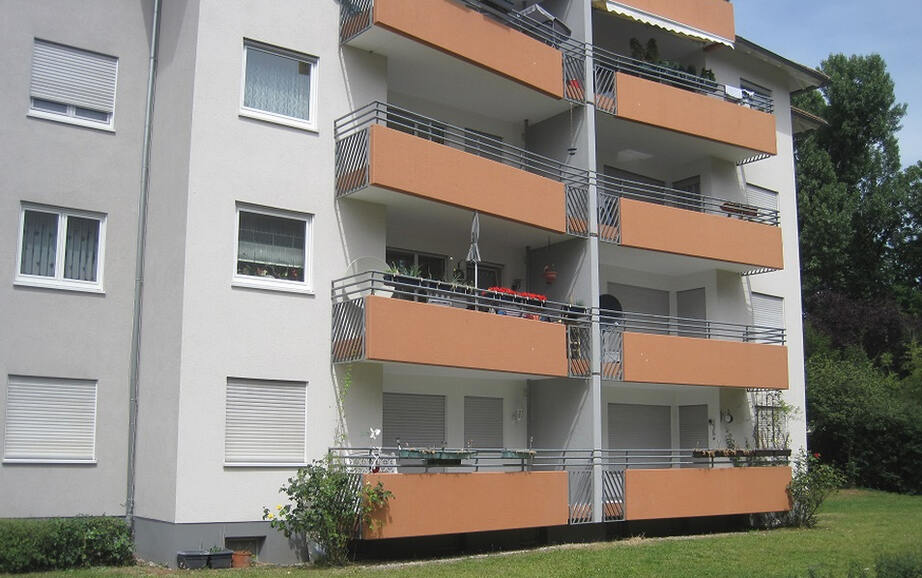 Good prospects with PCI products
Durable refurbishment of balconies
Good prospects with PCI products
Durable refurbishment of balconies
As a result of their exposed position, balconies and terraces are subject to severe weather conditions and high temperature differences. Nevertheless, using innovative tiling systems, it is possible to lay durable coverings on balconies and terraces. In order to achieve this objective, it is important to follow the generally accepted rules of technology or to use proven special solutions. Tiles must be laid using suitable flowable adhesives or by the "floating and buttering" method. It is also essential to provide the slope which is required. In the case of buildings constructed in the 1970s, a slope was often not provided or the surface was constructed with a slope in the wrong direction. The example of a residential complex in Offenbach shows how balconies on buildings of this type can be refurbished durably and effectively. In many cases, the 55 balconies of the complex had an inadequate slope. As a result, there were cracks between the tiles and many tiles were either cracked or loose.

During a site visit, PCI technical adviser Andreas Marx and PCI application technician Ingo Grollmisch agreed on the procedure to be adopted with the tiling contractor selected for the project, Michael Port. The first stage was to refurbish three sample balconies. The old tiling was removed and a slight slope of about 1% was provided. This was a compromise as it was not feasible to construct a surface with the slope of 1.5 – 2% that is normally specified. The concrete surface was then primed with PCI Gisogrund Rapid, followed by PCI Pecilastic U waterproofing membrane for reliable long-term bonded waterproofing. The membrane was bonded into place using PCI Nanoflott light flowable adhesive. PCI Pecitape 120 and PCI Seccoral 1K were applied to the joints between the membranes to provide a watertight seal. Where the surface was penetrated by a drainpipe, a suitable sleeve was bonded into place using PCI Seccoral 1K and the pipe was then inserted.

In order to provide long-term protection against frost damage and efflorescence caused by alkaline silicates, tiles must be laid without voids or with very few voids. This can only be achieved by the "floating and buttering" method or by using innovative flowable adhesives such as PCI Nanoflott light. The key factor is to make up the adhesive with a flowable consistency. The tiles were laid first on the three sample balconies and then on the other 52 balconies in the complex. For grouting, the tilers used the polymer-modified joint grout PCI Flexfug. Corner, connection and expansion joints were filled using PCI Elritan 100 single-component polyurethane joint sealant.
Opgave
Refurbishment of the balconies of a residential complex including waterproofing, tile laying and grouting
Objektstørrelse
55 balconies with areas of 5 or 9 m²
Produktanvendelse
PCI Elritan® 100, PCI Pecitape® 120, PCI Gisogrund® Rapid, PCI Pecilastic® U, PCI Flexfug, PCI Nanoflott light, PCI Seccoral 1K
Konsulentbistand
Ingo Grollmisch, PCI-Anwendungstechnik Andreas Marx, PCI-Fachberatung
Bygherre
HPG Hartmann und Partner GmbH
Firma
Michael Port, Pohlheim
Planung
Büro für Bauwesen Dipl. -Ing. Günter Engel, Pohlheim
Din kontaktperson for spørgsmål:
Referencerapport download